1215 Lexington Ave
(between 82nd St & 83rd St)
New York
,
NY
10028
(212) 288-2626
Nearest subway: 86th St (4, 5, 6)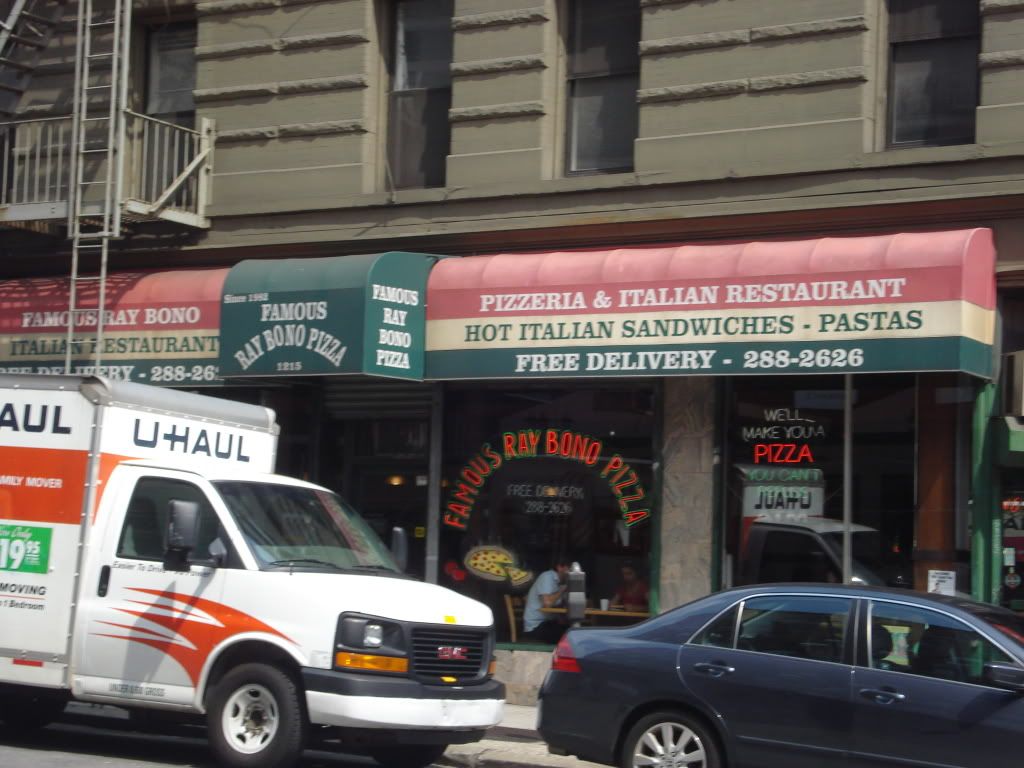 Famous Ray Bono Pizza in the Upper East Side was the first stop for pizza on my recent trip to NYC. After a seven hour bus ride, a 45 minute ride to Brooklyn to drop off our stuff and hug my sister, another 45 minute ride back to Manhattan and a hike to the Metropolitan Museum of Art, my friend Alex and I were ready for a freaking slice already!
The Met was awesome. I had forgotten how much I love their collection. We saw part of their impressive collection from ancient Egypt, some great armor, a few pieces from their modern collection, few of their Tiffany windows and whew looking at so much art is really exhausting. It is so much to think about. Technique, preservation, history, value, form, function, purpose... It is enough to make your brain explode. Alex is an excellent museum trip companion because he is super smart and knows a lot about the history of older work. He is also very curious which is key to enjoying a visit any museum.
Unfortunately we weren't able to spend as long as we wanted at the Met because we had to head to Coney Island to meet my lovely sister Rose and some pals/coworkers from IFP. On our way to the subway we stopped in Ray Bono for a slice and a cool drink. We were starving and so thirsty and needed a break.
They had a variety of pies to choose from some really fancy sun dried tomato and goats cheese type stuff. But we were starving and so thirsty. I got a slice of cheese and I couldn't even wait to get to the table before I took a bite. The slice was big and I'm sorry to say, reheated. Usually a reheated slice is pretty disappointing on the scale of pizzaliciousness. However, their oven was hot enough that the reheated slice was still crispy and the cheese was still stringy and because I was starving I enjoyed it more than I would have if i wasn't. There was a good sauce to cheese ratio, and a crispy crust. The cheese was decent but the sauce was a little on the acidic side. It gave me wicked acid reflux later.
Alex had a sausage roll which was also reheated and a little soggy if you ask me. He had to season it himself and when I asked him how it was he said "I was hungry it was food." but then later said he liked it.