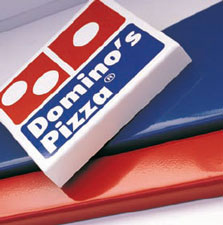 Domino's Pizza recently used the popular social networking/micro blogging site Twitter and the video share site YouTube for damage control after a video was posted on YouTube of a Domino's employee farting on a pizza and topping it with cheese that had been up his nose. The New York Times reported that the cupprits Kristy Hammonds, 31, and Michael Setzer, 32, who claim the video was just a hoax, were fired from their North Carolina Domino's location.
Last Monday Domino's was alerted by a blogger that video went up on YouTube and they later removed the video and posted an
appology
on the site. Domino's also set up nd utalized a twitter account to appologize.
"
dpzinfo
: To all that have messaged, RT'd or given a vote of confidence: THANK YOU! It's been a heck of a day, but we're glad to be out here with you."
Whatever! Domino's needs to tighten up! This blunder comes just weeks after Domino's Pizza had a secret free pizza code, "bail out," mistakenly discovered by an on-line customer. Word of the code quickly spread around the internet and chains around the country were forced to honor it to the tune of 11,000 free medium pizzas. The code had initially been set up in december as a possible promotion but was not meant to be activated or used. Domino's HQ promised to reimburse the bamboozled locations for honoring the mistaken code. Oops!
In other, more positive, "Twizza" news, Pizza Hut is currently looking to hire a "Twintern" to twitter about the pizza company at their headquarters in Dallas this summer. The intern will act as a member of the PR team and will focus on new and emerging social media, such as Twitter, Facebook and others. This is a full-time paid internship with their PR team and "will focus on new and emerging social media, such as Twitter, Facebook and others." Job tasks include:
-Collect and share insights and experiences while working for Pizza Hut through social and interactive media: Blogs, Twitter, Facebook, YouTube, New and emerging media
-Twintern will be given unprecedented access to marketing meetings, brainstorm sessions, ad shoots and special events
-Monitor social media for pop culture news, off-the-wall stories or anything else quirky and fun that he or she thinks would be of interest to loyal Pizza Hut fans.
-Chronicle experience through video; edit and post to selected media
-Conduct media outreach for PR programs
-Assist with execution of national PR programs
Wow! I'm applying. See you in Dallas!